Send 1-to-1 SMS or WhatsApp messages
Send a single, direct SMS or WhatsApp message to your customers directly within Intercom.
Get started
Learn more
Outbound 1-to-1 messages
Send an SMS or WhatsApp to any customer with a phone number.
All within your Intercom Inbox
Use our Inbox App to quickly send a proactive message to your customers.
Context with message history
View the last 3 messages you've sent to a customer in our Inbox App.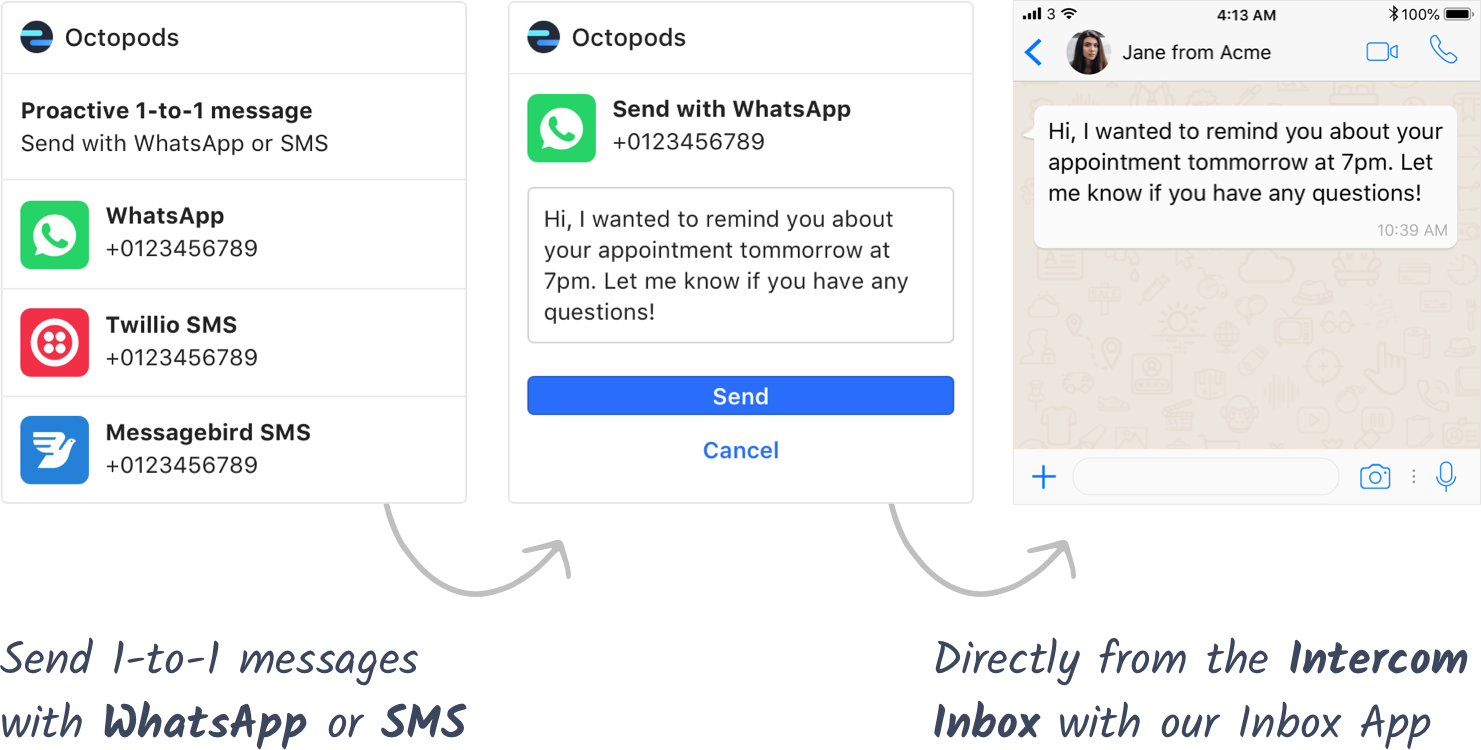 ---
1-to-1 Proactive Messaging FAQ
How does it work?
With our Intercom Inbox App you can send proactive messages via WhatsApp or SMS directly to any of your customers who have a phone number. In your Inbox simply select either SMS or WhatsApp, type your message, and hit send!
What are the use-cases for 1-to-1 messages?
Our customers are using proactive messages to send notifications, reminders, reservation confirmation, help, marketing, scheduling appointments, and many more.
How much does it cost?
Proactive messaging is available as an addon to our "Omnichannel" or "WhatsApp" plans. The Proactive messaging addon costs 69$ per month. This is a flat fee (no need to worry about "seats" or number of leads/users)!
---
Why Octopods?
We're a simple, reliable way to connect Intercom to Instagram and all the other social messaging channels your customers are using.
Secure and reliable
We're former Intercom product folks who know Intercom's platform inside out. We'll make sure you never miss a message.
7 day free trial
Start a free trial and connect Instagram to your Intercom workspace in just a few minutes. If you need anything we are here to help.
Instagram and many more
Consolidate all your customer communication in Intercom. We support 15 channels including WhatsApp, Instagram, Twitter, Telegram, LINE, Viber, Twilio SMS, Nexmo, MessageBird, Vkontakte, WeChat, OK.ru, Africa's Talking, TextMagic and Zalo!